THE LALIT MODI WAS A GAME CHANGER: PREITY ZINTA
MR. JOHRI'S EMPLOYMENT AGREEMENT
Appeal against ED order on IPL SA 2009
There is a great sense of pride, when I look back, that India owns the greatest cricket league in history. I feel proud that the world has followed the Indian Premier League (IPL) formula to churn out an industry of sport leagues across the globe.
It has been 10 years since the first edition (in 2008) and today, IPL is an annual ritual, like a festival of India. An event that the whole nation as one embraces, watches, and together, they rejoice and celebrate. What else can I ever dream of? It was my dream to create something that binds our nation together.
Today, I am a proud 'father' who has watched his 'baby' grow, despite the numerous controversies. In the end when IPL begins, we forget all the worries and the nation comes together as one. It's something no one can take away from me and it's something I truly cherish wherever I am. IPL is India – India is IPL.
It's the only one event in our nation's calendar that can do just that – it binds us together for months. Everywhere I go, everyone I see, always, has the highest praise for the tournament and is always grateful for this creation. And I, for my part, am grateful to Mr Sharad Pawar (then president of BCCI) who allowed me to fulfil my dreams despite one and all saying, it would never work or sustain itself. I take pride that in 10 years the formula I created with the IPL, today, considered to be the most progressive event to be ever created from scratch in the 21st century, on a global scale. To be able to make a place in the hearts of over a billion Indians and many millions across the globe, is truly the greatest achievement of my life.
Along with that joy, is a tinge of sadness, that the people who took over from me, have not been able to take IPL to the heights it has the potential to reach. They have stripped away each of my ideals, instilled in the core of the IPL. I am glad that those days too are over and a new breed of men and women will now enter the BCCI and in the years to come they will propel IPL to greater heights. IPL will run for another 100 years, and I do believe it will be the only event in our nation that would bring us all together over the longest period in the calendar.
This year the thought of eight opening ceremonies is a bad idea. It will lose its essence and a concept of an opening ceremony. You can create events each of the venues for the opening games, but to label them as opening ceremonies will cause fatigue to the television audience.
What we need is a commitment that we will put the fans and players in the forefront. If anything, there should be a thanksgiving to these two stakeholders. We have not done enough for them yet, especially the fans because they are what makes the sport what it is and forces the hands of potential sponsors.
I have always envisioned a day when IPL is played across the globe and we have five IPL matches across the five continents on the same day starting with Australia and moving across to India, other parts of Asia, Europe, Africa and then in the end in the USA. Imagine the impact of an IPL opening day on the world.
IPL is not going anywhere. It was always ahead of its time. We need to reclaim that space and ensure that we can go to the next level with the tournament. What that level is can be defined by the kind of innovations we can bring into the tournament. IPL needs to set the trend that others follow. We did that in 2008 and today, we have a few similar sounding products. Unfortunately, we have not innovated enough, whether in terms of technology or rules to make the sport more interesting. I have always dreamt of a longer IPL season like the English Premier League or the Champions League. The injuries, change of players who must go for national duty will make the league stronger and be more beneficial for the players, franchises, advertisers and broadcasters.
NDTV Interview: 'I Was Born With Diamond Spoon In My Mouth'
In 2010, we pushed the envelope and shred it to bits -- there was IPL in 3D, on YouTube, streaming on every mobile device, apps, IPL gaming, IPL in cinemas.
My heart swelled with pride when India told the UN General Assembly (UNGA) in 2014 that the IPL's success embodies emergence of sports as a global industry. India's UN Mission praised that the IPL was India's most profitable and popular sporting league and had generated employment and revenues for upcoming athletes, players, sporting associations, companies and all stakeholders. To get that praise from your own country at the UN General Assembly is the ultimate achievement for anyone.
There have been so many moments from IPL over 10 years that have stayed in my mind. But let me pick out the best of the best. The 158 from the bat of Brendon McCullum's in the first ever IPL match would be a favourite. In my mind, he played a significant role in making IPL a household name. That very day I had dedicated the success of IPL to Brendon. I went up to him in the dressing room and hugged him and said 'Thank you, and I dedicate IPL to you. You alone, on its very first day have put it on the map'.
It was a dream I was not expecting -- but it happened.
It worked like clockwork. Moving the 2009 IPL to South Africa in 29 days and watching packed grounds for all the weeks of the tournament would be easily one of the toughest, but one of the most satisfying moments of my life. The shift was an act of boldness, audacity, and implementation. It was the IPL's way of declaring its independence. I am so thankful today that the government did not allow us to play in India -- and once again against all odds, not only did I move the whole tournament to South Africa, but made it a sell out in that country and back home in India, drew an even larger fan base and made IPL global product.
It is something that is being talked about even today, in every business case study in leading universities around the world. Columbia and Stanford University have done two case studies on how I built and sustained IPL even with a hostile government at that time. To me, that was one of my biggest challenges I had faced and once again the Gods blessed us. To be celebrated as one of the biggest Indian innovations of this century by the Business Today magazine was another highlight.
Case Studies were discussed at Columbia and Stanford University. Getting YouTube to live stream all the matches of the 2010 edition – a first for Google – was a proud moment given they had never done any event on such a large scale in the past. To take on the well-established primetime shows and get ratings higher than them was a testimony of getting the recipe correct across the country.
Lastly, and most importantly, to change the lives of domestic cricketers and bring them to the centre stage; improving their financial conditions is the most satisfying accomplishment of my life. How a single IPL contract changed the lives of domestic cricketers who would have otherwise finished their career without being acknowledged for their talent and hard work is truly the single most important achievement of the IPL.
The ideals I had instilled at the core of the IPL are being stripped away one by one. The ideals of value and wealth creation for all stakeholders are gone. The ideals of purity of brand are gone. The ideal of putting the customer first is gone, brushed aside by petty men looking for their moment in the sun. In its place is a new paradigm, a new tenet -- the creation of wealth for very few by many.
Is it, therefore, obvious that it has faltered? Is it surprising, when you compromise the interests of the league, of the sport itself, that today you are threatened by copycat leagues?
These leagues, all based on the model I had pioneered, they are fighting for the same glory and fan-base as the IPL. Even as the IPL has diminished, shrunk, other leagues are growing. The pro-kabaddi league was viewed by 435 million viewers. The Indian Super League was viewed by 429 million. Similar leagues have sprung up around hockey, around badminton, and they are rapidly gaining attention and developing traction. The HIL, IBL, IPTL, an entire alphabet soup of rivals, are all flourishing because the IPL lost sight of its ideals, its charter.
I have a lot of faith and belief in the reforms suggested by the Lodha Committee appointed by the Honourable Supreme Court and I have little doubt that they will retain the integrity of the league. But the IPL still needs innovation and ambition -- those two factors will determine the future success of the IPL. In the end, I have just three words to the new team – innovate, innovate, innovate in everything you do -- and if they can follow them, then there will be no looking back.
Like I say to my team in everything I do today – 'surprise me'.
JAI HIND 🙏
http://www.outlookindia.com/magazine/story/ipl-was-always-ahead-of-its-time/298613

Lalit Kumar Modi
Proud Father of INDIAN PREMIER LEAGUE
FOUNDER AND ARCHITECT – IPL
Indian Cricket's Moment of Truth
Honourable Supreme Court of India has given the perfect New Years' gift to all cricket fans in India. In my view they have set a new benchmark in the way cricket and indeed sport will be governed for ages to come.
There comes a time in every era when a landmark change happens which leaves a long lasting impact in every sector. In terms of India as a country, we saw that change being created first in 1991 when the economy was opened up and then in 2016 when the demonetisation of currency was implemented.
When it comes to sport, this landmark judgement by the Supreme Court on 2 January 2016 will be one that will be spoken for a long time to come. Till now change was only in the air and there was no sense of fear of it actually happening.
Now with the BCCI president and secretary being knocked out in one stroke, there is a sense of fear which is good in a way. There is a sense that the changes will actually happen because an exemplary punishment has been meted out. For a very long time there was a tendency to take things for granted, in true Indian style. With visible obstacles being removed, the Supreme Court has made it known that the changes have to be implemented.
Usually changes which create a new era always come at a slow pace. In this case, it has taken us close to three years to arrive at this scenario. What started as a fight against corruption, went a long way in making corrective changes to the opaque set-up. This is all the mishandling of a perfect scenario that had been created under the leadership of Shri Sharad Pawar.
Just about 10 years ago an able team under Shri Pawar set about changing the face of Indian cricket. We had experts in every field handling departments and then were held accountable for our actions. I was entrusted with setting up the IPL, which I did thanks to the free hand given by Shri Pawar. Our endeavour was always to bring in professionals to supplement the work done by committed set of office-bearers. What that resulted in was a long-term impact on how the world saw the product of cricket. This would not have been possible without division of labour, great tactical and commercial acumen coupled with the work put in by able professionals.
But over the last five years there has been a consistent attempt to completely derail the process that we had created. It is the greed, the lust of power and nepotism which has brought us to this stage in Indian cricket. The stupendous work done by the past presidents like Pawarjee, Mr IS Bindra, Mr Shashank Manohar, Mr Raj Singh Dungarpur and Mr AC Muttiah has all gone in vain. Today the founding fathers of our great organisation will be left wounded in every way possible. This was a completely self-inflicted wound especially by Mr Thakur and Mr Shirke. Mr Thakur chose to become the fall guy, maybe hoping to get praises from his mentor. I cannot believe how he let the situation come to this pass. It showed a complete lack of respect for judicial process and for all attempts to achieve transparency.
I still cannot fathom how anyone can still oppose reforms that can yield more benefits for the game that we all love. What everyone forgets is that the game is bigger than any individual. Legends of the game like Sachin Tendulkar, Rahul Dravid, Kapil Dev and Sunil Gavaskar have all come and gone. But that has not stopped the game from growing further. The sport has grown and added more players to the roster not because of some self-serving officials. They have all come about because of a number of committed coaches, players and various volunteers who have given their sweat and blood to this sport. I cannot believe that this was forgotten in the melee of wanting to retain control.
That itself should be a cue to the next set of office-bearers, the word Control needs to be weeded out from the nomenclature. The administration needs to be further professionalised, with the CEO's team being strengthened with field experts being appointed. Similarly there can be an attempt to make IPL a truly professional blue-chip company to make it more accountable.
I am glad that there is at least a clear roadmap for us going forward. Now it is upto all of us stakeholders to pick up the thread and get the changes implemented.

Follow my thoughts on the BCCI crisis through my Twitter account @lalitkmodi
LALIT MODI STATEMENT ON RCA ISSUE
Mr. Lalit Modi President of Rajasthan Cricket Association (RCA) has welcomed the amicable solution of the stalemate in RCA management. In a statement issued here Lalit Modi has expressed satisfaction that good sense prevailed amongst constituent members and all differences have been buried. The time that was wasted could have been put to valuable use for betterment of cricket. I have a vision for Rajasthan Cricket Association both for infrastructure development as well as cricketing activities in the state which I would accomplish with the full support of the association.
With regard to the pending issues with BCCI the statement said that since the people holding responsible positions in BCCI are sensitive to the needs of cricket and young cricketers we look forward to an amicable resolution of all issues.
ON CHRIS CAIRNS ISSUE
I am aware of the verdict at Southwark Crown Court. As you know I am limited in what I can say as I am restricted by the injunction put in place following the 2012 libel trial. I will consider how this affects my own civil claim against Mr Cairns in due course.
FOR THE MISINFORMED MEDIA
OPINION OF HON'BLE MR JUSTICE SINHA (RETRD)
STATUS ON 16 SHOW CAUSE NOTICES : ALL COMPLETELY REPLIED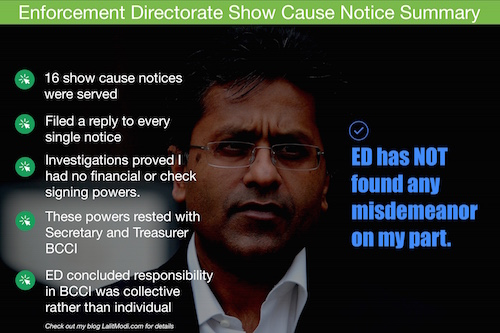 1. SHOW CAUSE NOTICE ON INTERNATIONAL MANAGEMENT GROUP (IMG) ISSUE

2. 11 SHOW CAUSE NOTICES ON SOUTH AFRICA ISSUE

3. SHOW CAUSE NOTICE ON PLAYERS ISSUE

4. 2 SHOW CAUSE NOTICES ON PERFORMANCE DEPOSIT ISSUE

5. SHOW CAUSE NOTICE ON SONY ISSUE

Note:
1. In 2010, the Enforcement Directorate (ED) started various investigations pertaining to BCCI- IPL. After investigations, the ED issued 16 show cause notices (SCN) on merit - 1 show cause notice on IMG contract issue, 11 SCN on conduct of IPL 2 in South Africa, 1 show cause notice on giving of guarantees to foreign players, 2 SCN on acceptance of performance deposit from foreign bidders, and 1 show cause notice on IPL Media Rights issue.
2. Mr. Lalit Kumar Modi has filed his reply on merits to each of the SCN issued by the ED.
3. On merits, in none of the SCN issued by the ED, any personal misdemeanor of Mr. Lalit Modi was found. Rather, Mr. Modi has been arrayed as a co-noticee with the aid of Section 42 of FEMA, which provides for vicarious liability merely because he was Chairman of IPL .
4. In those investigations, it was apparent that Mr. Modi had no financial powers or cheque signing powers, which vested with the Secretary and Treasurer of BCCI, and had no role to play in any outward remittance. Consequently, no foreign exchange violation has been done by Mr. Modi.
5. In effect, the ED has found that the responsibility in BCCI was collective rather than individual and the allegation made by BCCI that Mr Modi was acting without authority was not true and in effect discarded by the ED.
6. The copy of show cause notices on IMG issue, SA issue, players issue, performance deposit issue, and Sony issue are annexed as Annexure 1 to 5 respectively. The copies of replies of Mr. Modi to these notices are annexed as Annexure 6 to 10 respectively.
7. The brief tabular form of the various SCN issued by the ED are set out as under:
| | | | | | |
| --- | --- | --- | --- | --- | --- |
| Sr. No. | Complaint upon which the show cause notice was based | Show cause notice | Role of Mr. Modi | Whether response filed | Status |
| 1. | A complaint was filed on 13.7.2011 alleging that BCCI had hired IMG, an international sports marketing agency as consultant for IPL and this was done without approval of RBI. | Based on this complaint, 1 showcause notice dated 20.7.2011 was issued to BCCI, Mr. N. Srinivasan, the Secretary BCCI, Mr. MP Pandove, Treasurer BCCI, and Mr. Modi. | Mr. Modi has been issued notice only under Section 42 (1) of FEMA, which provides for vicarious liability. | The BCCI has filed a detailed response to the show cause notice denying the allegations made therein. Mr. Modi has separately filed a reply denying the allegations and that Section 42 (1) does not apply to him. | Pending adjudication |
| 2. | A complaint was filed on 17.11.2011 alleging that BCCI held the 2ndseason of IPL in South Africa and this was done without approval of RBI. | 11 SCN dated 25.11.2011 were issued against the BCCI on a single complaint pertaining to each forex transaction in South Africa. Mr. Shashank Manohar, the President BCCI, Mr. N. Srinivasan, the Secy. BCCI, Mr. M.P. Pandove, the Treasurer, Mr. Ratnakar Shetty, CEO, BCCI, Mr. Prassanna Kanan, the Manager, Business and Commercial Services, IPL, Mr. Sunder Raman, COO, IPL and Mr. Modi are co-noticees. | The notice has been issued to Mr. Modi under Section 42 (1) of FEMA providing for vicarious liability. | The BCCI has filed a detailed response to the show cause notice denying the allegations made therein. Mr. Modi has separately filed a reply stating that he had no role at all to play in the forex transactions and that Section 42 (1) does not apply to him. | Pending adjudication |
| 3. | A complaint was filed on 16.2.2012 alleging that BCCI gave guarantees to foreign players participating in IPL without permission of RBI. | 1 show cause notice was issued on 21.2.2012 to the BCCI, Mr. Niranjan Shah, the then Secretary, and Mr. Modi. | The notice has been issued to Mr. Modi under Section 42 (1) of FEMA providing for vicarious liability | The BCCI has filed a detailed response to the show cause notice denying the allegations made therein. Mr. Modi has separately filed a reply denying the allegations and that Section 42 (1) does not apply to him. | Pending adjudication |
| 4. | A complaint dated 22.8.2012 was filed that BCCI while awarding contracts to foreign bidders accepted performance deposit/earnest money in foreign currency without seeking RBI approval. | On 23.8.2012, 2 SCN were issued to the BCCI, Mr. N. Srinivasan, Mr. Niranjan Shah, and Mr. Modi. | The notice has been issued to Mr. Modi under Section 42 (1) of FEMA providing for vicarious liability. | Mr. Modi has filed a reply denying the allegations and that Section 42 (1) does not apply to him. | Pending adjudication |
| 5. | A complaint dated 19.1.2015 was filed that BCCI while awarding contract to Sony had guaranteed payment of fees to WSG. | On 11.2.2015, 1 show cause notice was issued to the BCCI, Mr. N. Srinivasan, Mr. Sundar Raman, and Mr. Modi as well as WSG and Sony and their directors. | The notice has been issued to Mr. Modi under Section 42 of FEMA providing for vicarious liability. | Mr. Modi has filed a reply denying the allegations and that Section 42 does not apply to him. | Pending adjudication |
WATCH LALIT MODI'S INTERVIEW WITH RAJDEEP SARDESAI
READ: MODI'S OPEN LETTER TO THE MEDIA
READ: LALIT MODI INTERVIEW IN THE OPEN MAGAZINE
QUIZ: HOW WELL DO YOU KNOW LALIT MODI?
BUZZFEED: LALIT MODI'S ACHIEVEMENTS
MEET N SRINIVASAN: THE MOST CORRUPT BCCI PRESIDENT EVER

Follow my thoughts on the BCCI crisis through my Twitter account @lalitkmodi